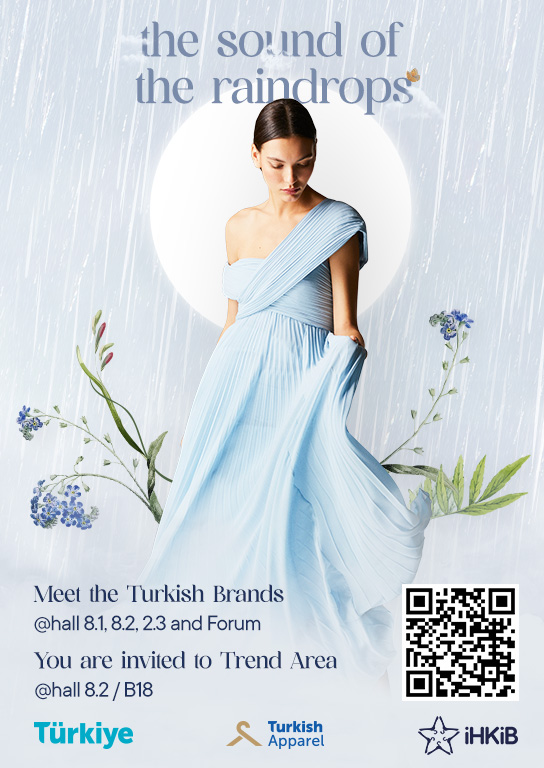 COLLECTION PREMIERE MOSCOW
Collection Premiere Moscow-CPM which is one of the International Fashion Trade Shows in the global arena will take place on August 30-September 2, 2022 with it's 38th season. This International Fashion Trade Show and order event is organized by Messe Duesseldorf Moscow and the Co-Organizer Igedo Company.
CPM, the largest fashion trade fair in Eastern Europe, is been held in Moscow twice a year. More than 20.000 visitors from 38 nations will meet with over 1.300 international brands in 45.000 m2 area in Expocenter. The majority of trade visitors are shop owners, corporate executives, buyers and store managers. And also a total of 105 Turkish brands will exhibit their products at the fair.
Exhibitors profile; Turkey, Germany, France, Italy, Russia
Main product categores; women's, men's, kids' wear, lingerie, accessories and Young Fashion. The ranges displayed by the exhibitors comprise and cover just about every fashion segment: womenswear, menswear, childrenswear, knitwear, leisurewear, leatherwear, fur fashion, Bridal/Coctailwear, lingerie, body/beach and homewear as well as accessories.
Dates: 30.08.2022 – 03.09.2022
Country / City: Russia-Moscow
Location: Expocenter Fairgrounds
Official Web Site: https://cpm-moscow.com/
| Brand | Hall | Stand No | Hall Map | |
| --- | --- | --- | --- | --- |
| BUTELLA | 2.3 | A01 | | -- |
| ESPARANTO | 2.3 | A04 | | -- |
| LARGE RİDE - GİOVANNİ EDUARDO | 2.3 | A10 | | -- |
| RE DESİGN | 2.3 | A11 | | -- |
| OF WHİTE | 2.3 | A15 | | -- |
| SOCUTE | 2.3 | A19 | | -- |
| CALENZANO | 2.3 | B03 | | -- |
| LACARİNO | 2.3 | B09 | | -- |
| LEBENİ LEATHER FUR | 8.1 | A01 | | -- |
| MELSA | 8.1 | A03 | | -- |
| EMİLİANO ZAPATA | 8.1 | A04 | | -- |
| ESTİMO | 8.1 | A05 | | -- |
| PERRE | 8.1 | A07 | | -- |
| DONNA BACCONİ | 8.1 | A08 | | -- |
| CIPO & BAXX | 8.1 | A09 | | -- |
| SARTORIA MARENERO | 8.1 | A10 | | -- |
| MCR MODA CRİSE | 8.1 | A11 | | -- |
| NAONAMAZOTTI | 8.1 | A12 | | -- |
| TWISTER | 8.1 | A19 | | -- |
| FELICITA | 8.1 | A20 | | -- |
| WHİTNEY | 8.1 | A23 | | -- |
| JAKAMEN | 8.1 | A24 | | -- |
| RAFAELLO | 8.1 | B03 | | -- |
| PROMOSTYL | 8.1 | B04 | | -- |
| MEFI | 8.1 | B05 | | -- |
| RIVO | 8.1 | B06 | | -- |
| EBBERRO | 8.1 | B08 | | -- |
| ESMERALDA | 8.1 | B09 | | -- |
| SERİANNO | 8.1 | B10 | | -- |
| GİOTELLİ | 8.1 | B11 | | -- |
| AY-SEL | 8.1 | B17 | | -- |
| BOLERO EVELINE | 8.1 | B18 | | -- |
| CLİMBER BY CUNO | 8.1 | B19 | | -- |
| FİMKA | 8.1 | B20 | | -- |
| LİSSMORE | 8.1 | B21 | | -- |
| ADAMO FUR | 8.1 | B22 | | -- |
| BLACK ISLAND | 8.1 | B22 | | -- |
| HÜSEYİN ŞAHİN | 8.1 | C01 | | -- |
| SANSAR | 8.1 | C02 | | -- |
| DURASSİ | 8.1 | C03 | | -- |
| GUSTO FUR FASHİON | 8.1 | C04 | | -- |
| LİNDİ WEST | 8.1 | C05 | | -- |
| ALBERTİNİ | 8.1 | C06 | | -- |
| GIORGIO ROTTI | 8.1 | C07 | | -- |
| EQMODA | 8.1 | C10 | | -- |
| ARMADA LEATHER&FUR | 8.1 | C15 | | -- |
| RUBİS | 8.1 | C17 | | -- |
| LA CHERE | 8.1 | C19 | | -- |
| ARDA TEX | 8.1 | C20 | | -- |
| GUZELLA | 8.1 | C21 | | -- |
| PIENA | 8.1 | C23 | | -- |
| MEES | 8.1 | C24 | | -- |
| KAPRİS | 8.1 | C25 | | -- |
| PLATİN, PLATİN BENETTİ | 8.1 | C27 | | -- |
| SHN / STYLE HERE NOW | 8.2 | A01 | | -- |
| MARCO ZANETTI | 8.2 | A02 | | -- |
| TONY MONTANA | 8.2 | A04 | | -- |
| BİZE | 8.2 | A05 | | -- |
| COONLESS | 8.2 | A06 | | -- |
| ROMANO BOTTA | 8.2 | A10 | | -- |
| ATEŞ TRİKO | 8.2 | A11 | | -- |
| MANCHE | 8.2 | A12 | | -- |
| DANGER | 8.2 | A17 | | -- |
| FİORENTİ | 8.2 | A19 | | -- |
| TOMMY LİFE | 8.2 | A21 | | -- |
| LUCIANO BELLINI | 8.2 | B01 | | -- |
| ZEDDPLUS | 8.2 | B02 | | -- |
| MARATON | 8.2 | B03 | | -- |
| ENTIRE | 8.2 | B04 | | -- |
| SMC BY SEMCO | 8.2 | B05 | | -- |
| AMATO | 8.2 | B08 | | -- |
| CARDUCCI | 8.2 | B09 | | -- |
| YXL COLLECTION | 8.2 | B10 | | -- |
| JEANNE DARC | 8.2 | B11 | | -- |
| VERDA | 8.2 | B12 | | -- |
| FERRARO | 8.2 | B13 | | -- |
| MARİSİS | 8.2 | B16 | | -- |
| KİĞILI | 8.2 | B17 | | -- |
| VİGOSS - VSPORT | 8.2 | B21 | | -- |
| ECKO UNLTD | 8.2 | C01 | | -- |
| PİER CARLİNO&GİOLUCCİ | 8.2 | C02 | | -- |
| RICARDO RICCO | 8.2 | C03 | | -- |
| ARMA | 8.2 | C04 | | -- |
| SPORTEMPT | 8.2 | C05 | | -- |
| EUROFASHION | 8.2 | C08 | | -- |
| MİSS DALİDA | 8.2 | C09 | | -- |
| PHARDİ | 8.2 | C10 | | -- |
| VİVENTO | 8.2 | C11 | | -- |
| BELLO VALENTE | 8.2 | C13 | | -- |
| MERKÜR | 8.2 | C14 | | -- |
| SETRE | 8.2 | C15 | | -- |
| TONY BELLUCCİ | 8.2 | C18 | | -- |
| DZYNLİNE, KOKART, LOKKA | 8.2 | C22 | | -- |
| SEASAND | 8.2 | C24 | | -- |
| MARCO RENCI - KEZZ - HODREY | A22 | 8.1 | | -- |
| MODESSAN GLR | C08 | 8.1 | | -- |
| BİSA | C12 | 8.1 | | -- |
| HAYS | FORUM | B70 | | -- |
| SEVİM | FORUM | B78 | | -- |
| DAGİ | FORUM | C70 | | -- |
| JOHN FRANK | FORUM | C71 | | -- |
| OZTAS | FORUM | C76 | | -- |
| COTTONHİLL UNDERWEAR | FORUM | C78 | | -- |
| ŞİRİN ÇORAP | FORUM | D71 | | -- |
| ŞAHPAŞA | FORUM | D79 | | -- |