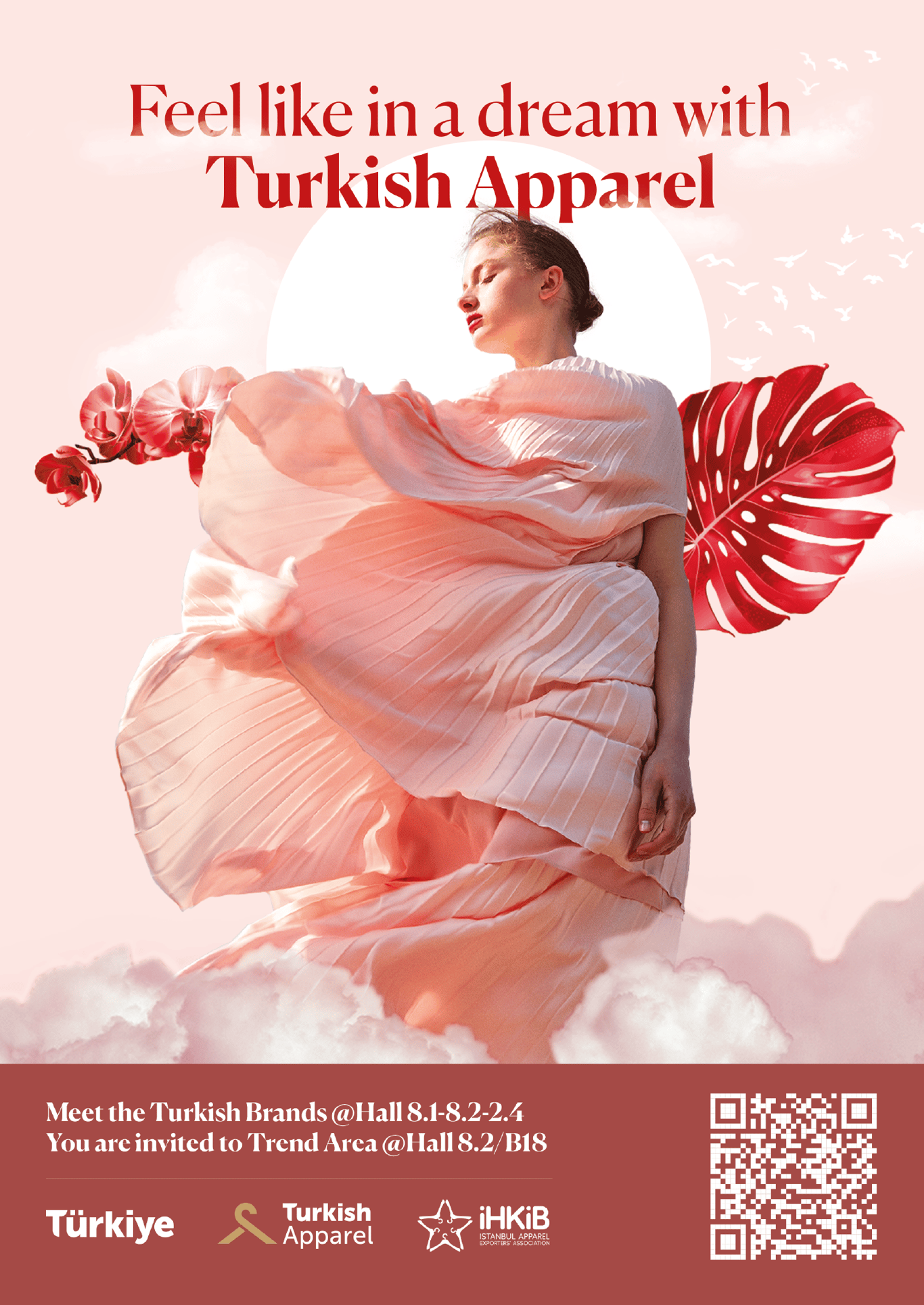 Collection Premiere Moscow-CPM which is one of the International Fashion Trade Shows in the global arena will take place on February 21-24, 2022 with it's 37th season. This International Fashion Trade Show and order event is organized by Messe Duesseldorf Moscow and the Co-Organizer Igedo Company.
CPM, the largest fashion trade fair in Eastern Europe, is been held in Moscow twice a year. More than 20.000 visitors from 38 nations will meet with over 1.300 international brands in 45,000 m2 area in Expocenter. The majority of trade visitors are shop owners, corporate executives, buyers and store managers. And also a total of 100 Turkish brands, including 24 leather companies, 10 underwear companies and 66 ready-made clothing companies, will exhibit their products related to Fall-Winter 2022/23 at the fair.
Exhibitors profile ; Turkey, Germany, France, Italy, Russia
Main product categories; women's, men's, kids' wear, lingerie, accessories and Young Fashion. The ranges displayed by the exhibitors comprise and cover just about every fashion segment: womenswear, menswear, childrenswear, knitwear, leisurewear, leatherwear, fur fashion, Bridal/Cocktailwear, lingerie, body/beach and homewear as well as accessories.
Dates: 21.02.2022-24.02.2022 (10.00 – 18.00*)
Country / City: Russia-Moscow
Location: Expocenter Fairgrounds
Official Web Site: https://cpm-moscow.com/
Brand
Hall
Stand No
Hall Map
John Frank

24
15A
--
SEVIMLI DERI SANAYI VE TIC. LTD. STI
Visit Manufacturer
24
A33
Visit Manufacturer
EKİNOKSSOCKS

24
A40
--
Elegant - Öztaş - Stone- Fancy-Confeo

24
B15
--
HAYS

24
B17
--
THERMOFORM

24
B24
--
AYDOĞAN

24
B27
--
WONNA

24
B28
--
ROUPILLON

24
B31
--
PAMUK&PAMUK

24
B35
--
ILGAZLI LEATHER & FUR

81
A01
--
EMELDA FUR AND LEATHER
Visit Manufacturer
81
A03
Visit Manufacturer
GATA FUR
Visit Manufacturer
81
A04
Visit Manufacturer
PANTERREZ

81
A05
--
PERRE


81
A07
--
ARMADA LEDER&FUR-INVITO

81
A08
--
CIPO & BAXX

81
A09
--
MAPATA MARENERO

81
A10
--
MCR MODA CRİSE

81
A11
--
NAONAMAZOTTI

81
A12
--
TWISTER

81
A19
--
FELİCİTA

81
A20
--
MARCO RENCI - KEZZ - HODREY

81
A22
--
WHİTNEY

81
A23
--
COMIENZO

81
A24
--
BONİ PELLE

81
B02
--
DIO GOMEZ BY DERMA
Visit Manufacturer
81
B03
Visit Manufacturer
promo styl


81
B04
--
MEFİ DERİ


81
B05
--
MODAQUEEN
Visit Manufacturer
81
B06
Visit Manufacturer
EBBERRO

81
B08
--
RİVO
Visit Manufacturer
81
B09
Visit Manufacturer
SERİANNO

81
B10
--
GIOTELLI

81
B11
--
AY-SEL

81
B17
--
BOLERO EVELINE

81
B18
--
CLİMBER BY CUNO

81
B19
--
FİMKA

81
B20
--
LİSSMORE

81
B21
--
NİLMARK

81
B22
--
DESSDİ

81
C01
--
SANSAR


81
C02
--
DURASSİ


81
C03
--
DONNA BACCONİ


81
C04
--
BARSS

81
C05
--
ALBERTİNİ


81
C06
--
MODESSAN
Visit Manufacturer
81
C08
Visit Manufacturer
LA CHERE

81
C10
--
BİSA

81
C12
--
SİA Leather Fashion


81
C15
--
Rubis
Visit Manufacturer
81
C17
Visit Manufacturer
SETRE

81
C19
--
ARDA TEX

81
C20
--
GUZELLA

81
C21
--
PIENA

81
C23
--
MEES

81
C24
--
KAPRİS

81
C25
--
PLATİN, PLATİN BENETTİ

81
C27
--
Giorgio Rotti
Visit Manufacturer
81
С07
Visit Manufacturer
SHN WOMEN

82
A01
--
MARCO ZANETTI

82
A02
--
TONY MONTANA

82
A04
--
BİZE

82
A05
--
LAGAZZIA

82
A10
--
KIFTPLUS

82
A11
--
DE BLASIO

82
A12
--
LEGRAFF

82
A17
--
FILPUCCI

82
A19
--
BAD BEAR

82
A21
--
LUCIANO BELLINI
Visit Manufacturer
82
B01
Visit Manufacturer
ZEDDPLUS

82
B02
--
BB COLLECTION

82
B03
--
ENTİRE

82
B04
--
EQMODA

82
B05
--
ESMERALDA

82
B08
--
CARDUCCI

82
B09
--
MİSS DALİDA

82
B10
--
INFINITY

82
B11
--
VERDA

82
B12
--
FERRARO

82
B13
--
MARİSİS

82
B16
--
AMATO

82
B17
--
LİWALİ

82
B21
--
TIĞ TRİKO

82
B23
--
ALL IN BLACK

82
C01
--
CARACLAN

82
C02
--
RICARDO RICCO

82
C03
--
SALKIM

82
C04
--
PHARDİ

82
C05
--
Sigotto Uomo
Visit Manufacturer
82
C08
Visit Manufacturer
SPORTEMPT

82
C09
--
BRACA MELISSA

82
C10
--
ADİMO

82
C11
--
YXL COLLECTION

82
C12
--
BELLO VALENTE

82
C13
--
MERKÜR, ALGORE

82
C14
--
MARATON

82
C15
--
Bond Non - Tony Bellucci
Visit Manufacturer
82
C18
Visit Manufacturer
DİZAYN GİYİM

82
C22
--
SEASAND

82
C24
--